The Original Sussex Boat Seat

We are pleased to introduce the "Original Sussex Boat Seat", this is a unique arbour, built
using the finest materials to ensure a long life and very low maintenance. It will compliment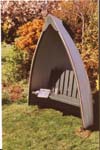 any garden, patio, courtyard or waterside location, and it's unique sculptural form will help create a much admired focal point in virtually any location.

The "Seat" comes in a pre-coloured hull material (although both hull and timber can be finished in any propriotory exterior paint system) and the solid timber seat and backrest are tanalised and then treated with a coloured wood preservative.

Dimensions: height 2000mm. width 1600mm. depth 600mm weight 38kg.
For the more exposed location, the "Sussex Boat Seat" has three reinforced points for bolting to posts or wooden decking, great for pub garden locations.


We are happy to quote individual shipping costs (worldwide), however, retail customers and multiple trade orders are currently delivered to mainland U.K. addresses

"A UNIQUE GARDEN FEATURE FOR DISCERNING CLIENTS"

With a suggested retail price of only £695.00, it represents excellent value. The "Original Sussex Boat Seat" can be ordered directly from us, or, purchased from selected garden centres.
We will be publishing a list of stockists in the near future.
In the meantime please use the instant "CONTACT US" facility below, to make enquiries, and place orders. ( further outlets are required. please enquire about trade terms.)

The "Original Sussex Boat Seat" is designed, built and marketed by:
The Lug Bug Boat Co. Mill Farm Cottage, Winchelsea, East Sussex, TN36 4HH. England.